Meditation Coaches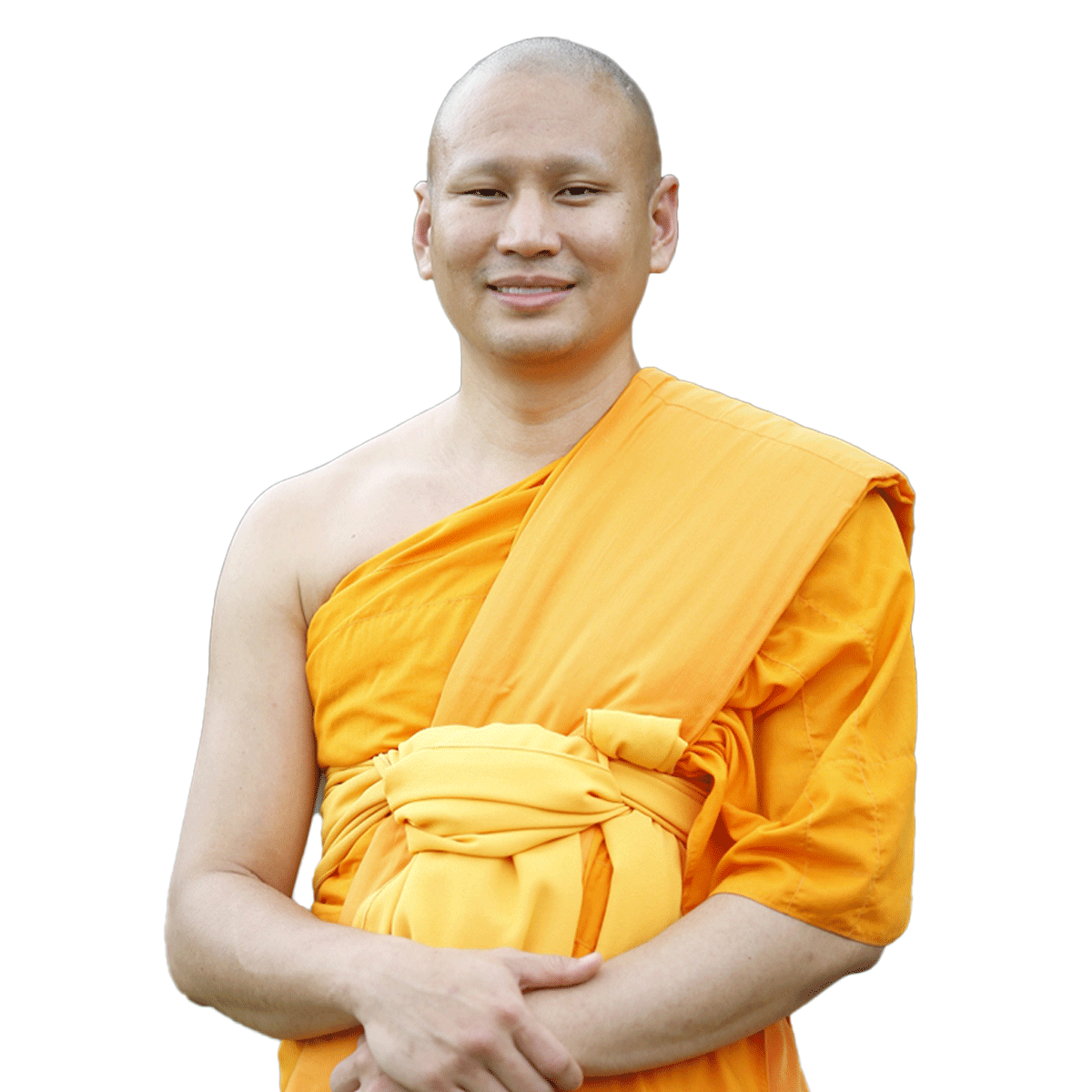 Luang Pi Pasura
Phra Pasura Dantamano
Phra Pasura Dantamano, a former hotel manager, flight attendant, and DJ, transitioned to the life of a Theravada monk in 2006. He holds a humanities degree from Ramkhamhaeng University and has extensively traveled both as a monk and a layperson. As Vice President of World Buddhist Sangha Youth (WBSY), he's organized numerous ceremonies and events across countries like Indonesia, India, Bangladesh, Myanmar, Nepal, and more, with up to 20,000 attendees. Phra Pasura Dantamano has represented his organization and spoken at Buddhist and non-Buddhist conferences globally. With over 1,000 meditation workshops, courses, and retreats in 50+ countries, he has shared his wisdom on mindfulness, meditation, and Buddhist philosophy for a balanced and fulfilled modern life with diverse audiences, including universities and corporations like Columbia University, DHL, and more.
---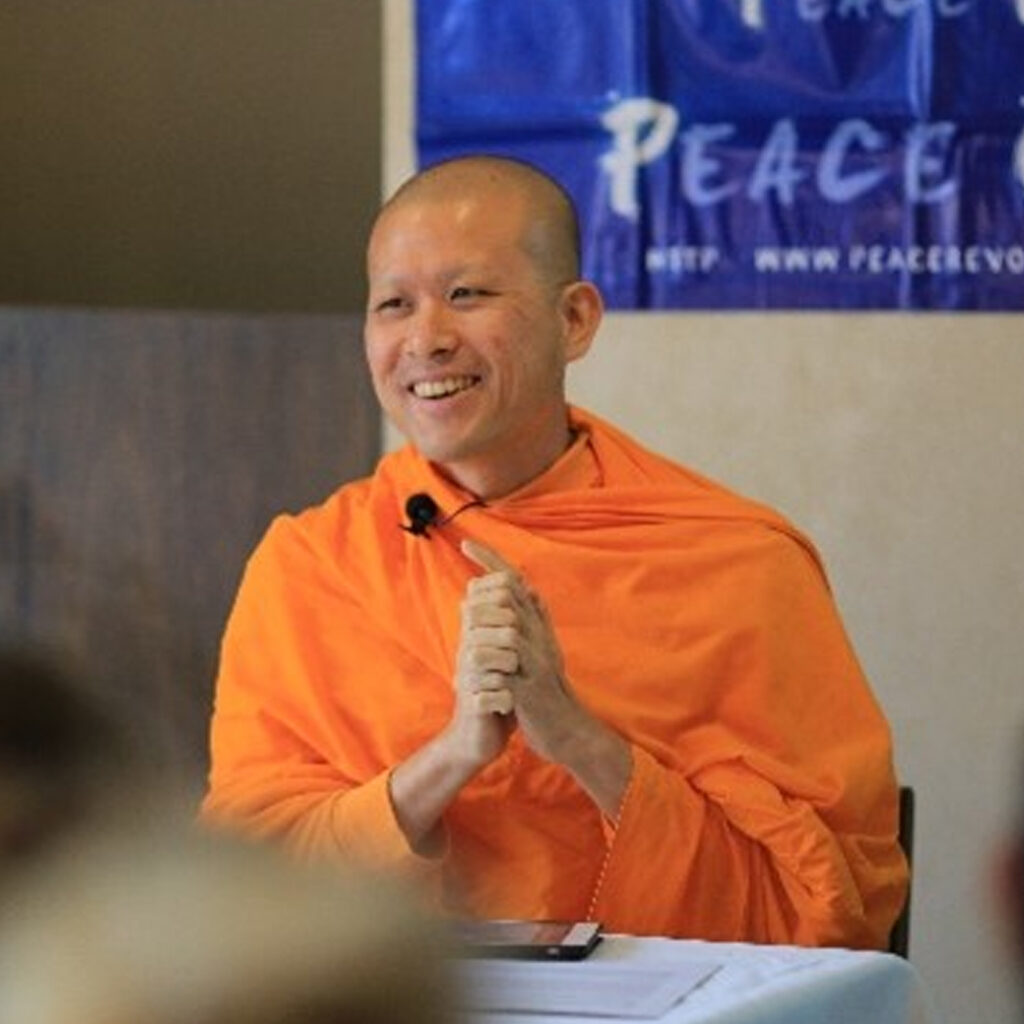 Luang Pi John
Theravada Buddhist Teaching Monk
Once a pianist, photographer, and computer programmer, LP John, or Monk John, ordained as a Theravada Buddhist Monk 13 years ago after finishing his PhD in Telematics.
With his tech background, Monk John has pioneered the biggest free online self-development and meditation platform that has attracted users worldwide.
He travels the world giving insights into mindfulness, meditation and Buddhist philosophy helping individuals enrich their lives and find balance. Monk John also works with NGOs, government agencies, universities, and corporates such as Google, Orange, Zoom, Ogilvy and Teamwork in 70 countries.
---
Luang Pi Arm
Venerable 'Arm' Saccadhico Bhikkhu originated from Thailand and has been a Thai Theravada Buddhist Monk for 9 years. He has almost a decade of experience teaching meditation as a Buddhist monk. Venerable Arm has a Bachelor's degree in engineering. He designs curriculum for youth development activities through the use of Buddhist principles and modern psychology. He also organizes public speaking trainings. Venerable Arm has a facebook page 'Saccadhico,' a daily dhamma page where he hand writes content to help people lead happier lives, decrease suffering and find true happiness in life. Venerable Arm believes that happiness is accessible and available to all despite external circumstances if we only know how to train our minds.
---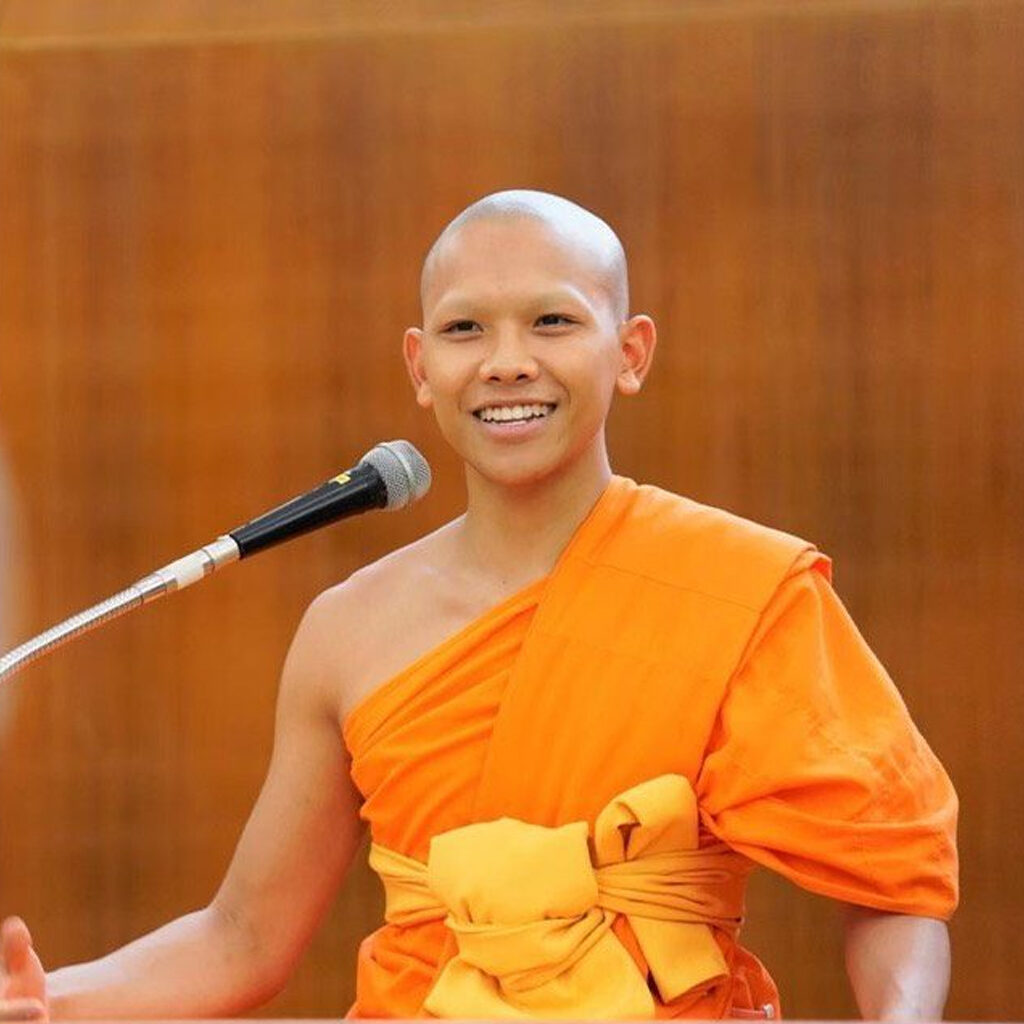 Luang Pi Bee
Born and raised in Atlanta, USA, Monk Bee studied psychology at the Georgia State University, before ordaining as a Buddhist Monk in 2012.
He has been practicing meditation for more than 20 years, starting well before he ordained. In 2013, he joined the Kong Roi Nuana Boon special meditation team, and has since submerged himself the world of meditation, developing his meditative understanding and practice. He uses this wisdom to help thousands discover inner peace.
---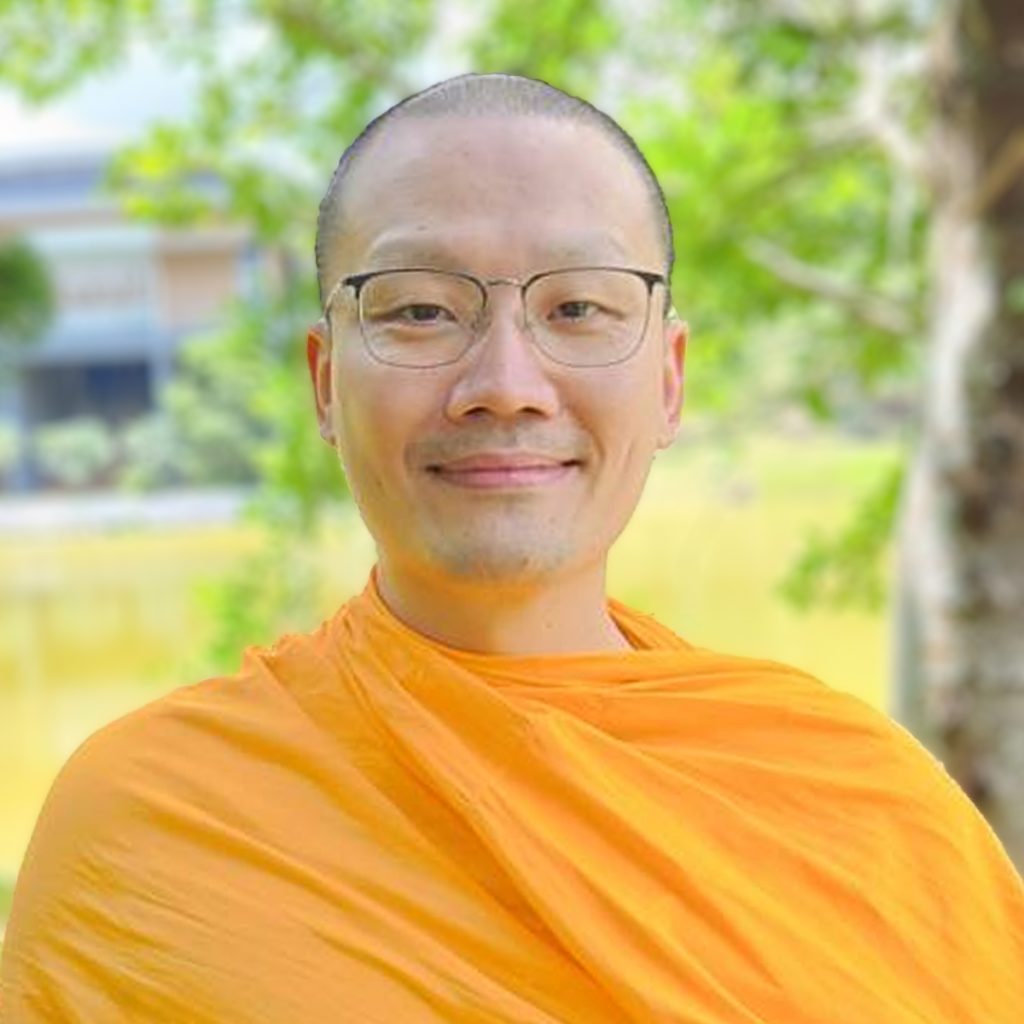 Luang Pi Brian
Teaching Monk Brian Pabhassaro
Born and raised in Singapore, Monk Brian started learning meditation since his teenage years. He graduated from Culinary Arts and won several culinary awards throughout his studies and career. Amongst all, Monk Brian was the Champion in WorldSkills cooking competition and represented Singapore in Switzerland in 2003. He was also a young entrepreneur with 2 gourmet establishments in Singapore.
Monk Brian was ordained as a Theravada Buddhist Monk 11 years ago to continue pursuing his spirituality development. Specialised in meditation coaching, Monk Brian has led meditation workshops and courses to diverse groups across Singapore, Malaysia, China, Philippines, Indonesia, Thailand, Nepal, Bangladesh and Sri Lanka. He is passionate in helping others to discover inner peace and happiness, to live an enriching and successful life through daily meditation practice.
---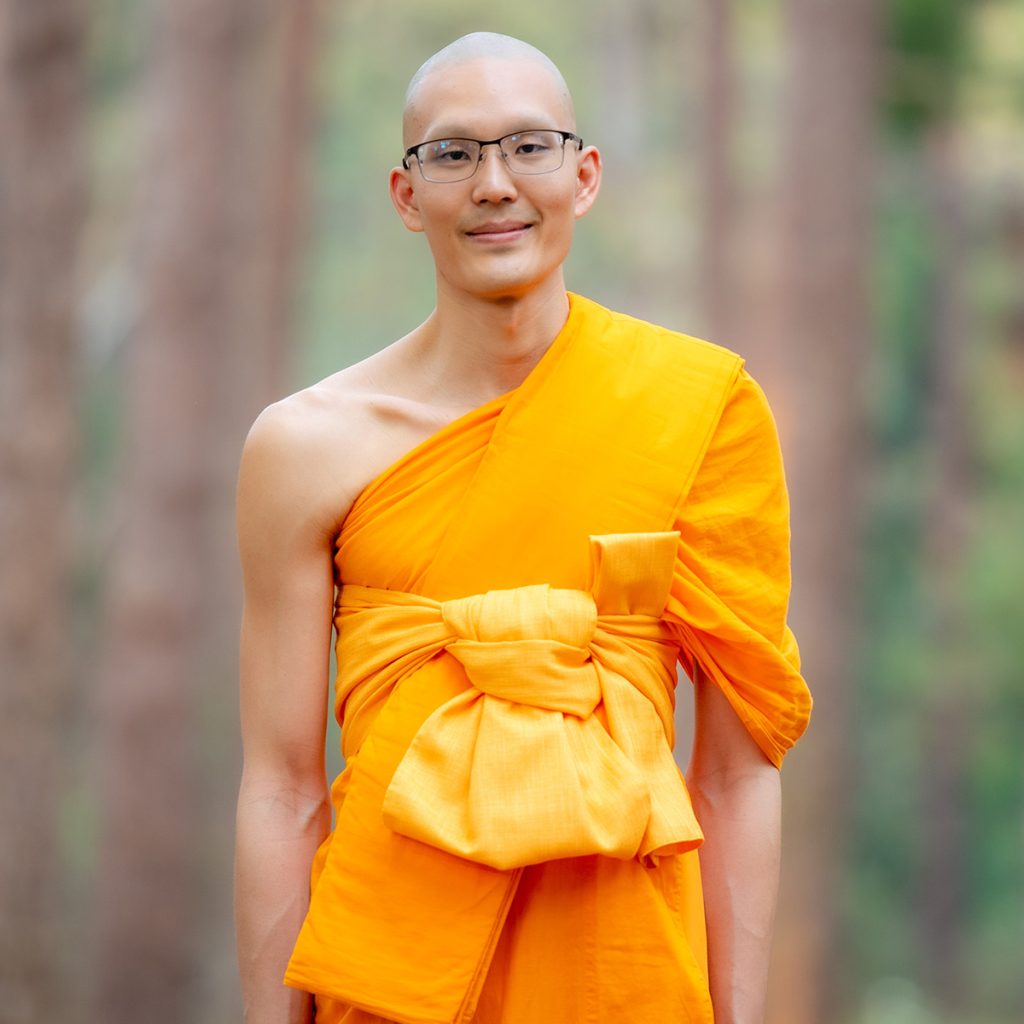 Luang Pi Tim
From Sacramento, California, Monk Tim travelled to Thailand in 2014 looking for meditation training and ordained as a Theravada Buddhist monk.
Ever since, immersed in a monk's life of mindfulness and meditation, he shares his knowledge with individuals and groups from across the world. He enjoys the art of drawing and journaling, using it as a tool to support the pursuit of inner peace.
---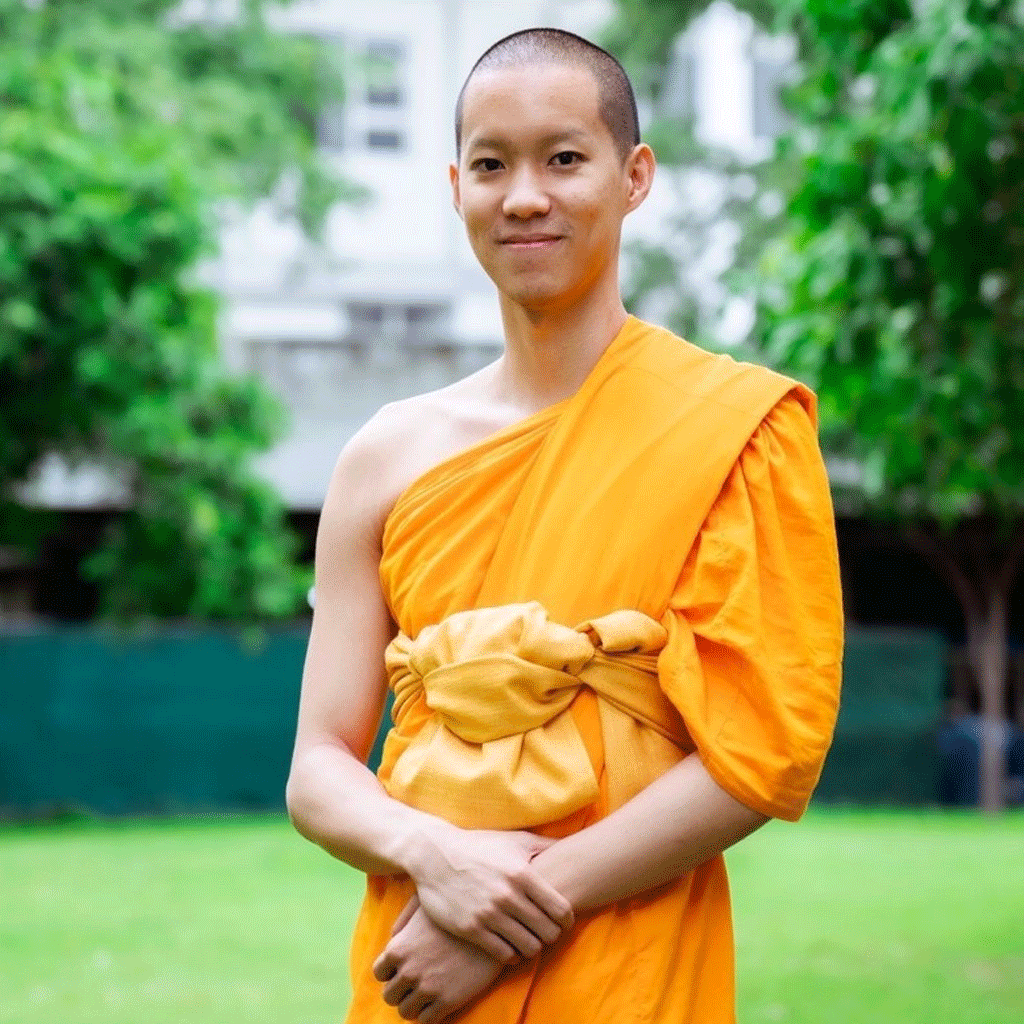 Monk Charrie
Monk Charrie is a Theravada Buddhist Monk who devoted himself to study and share wisdom from meditation and Buddhist philosophy. He has been practicing meditation for nearly 20 years and has become a monk since 2016 after finished his Master in Business Administration.
With the experience from his younger years, from being an athlete, a performer, a volunteer with youth and kids related events, he has been sharing inner peace with a fun, simple but profound approach for all walks of life in the renowned Superkids programme, as well as being a meditation instructor at the Middle Way Meditation Institute and the online Mind Stories series.